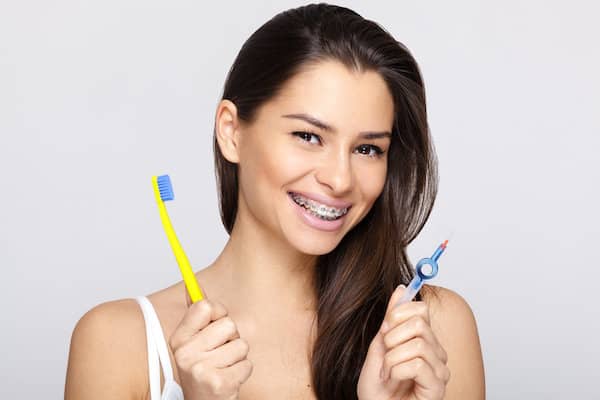 Oral Hygiene During Orthodontic Treatment
Keeping your teeth clean is important for healthy teeth and an attractive smile, and is crucial if you're wearing braces!
In addition to your usual dentist check-ups, you may need to make additional appointments to have your teeth and braces professional cleaned. Regular brushing and flossing is the foundation of good oral hygiene, and must therefore be done regularly.
Oral Hygiene with Braces
Brushing with Braces
The best way to brush your teeth is with a soft-bristled toothbrush and a fluoride toothpaste. When brushing, make sure that you position your toothbrush in such a way that the bristles come into contact with your gum line. If you are using a manual toothbrush, the best way to clean your teeth is with circular motions.
Using an electric brush? Make sure you clean the areas between, above and below your braces. When brushing, make sure you don't just pass the brush across your teeth, but spend enough time cleaning each tooth surface. We recommend brushing your teeth at least four times a day, with each brushing session lasting 2 to 3 minutes. Brush your teeth after every meal and before going to bed. Toothbrushes wear out faster if you are wearing braces so make sure to replace the bristles when they start to become ragged.
Flossing with Braces
Flossing can be a challenge when you have braces, and this is why we will provide you with floss threaders to help you reach under the braces' archwire. These threaders can be re-used.
For optimal flossing, cut a 12-inch piece of floss and use the threader. Run the floss up and down between your gums, teeth and along the sides of each tooth. Make sure you don't pull too much pressure against your archwire.
Remember: your teeth are not properly flossed until you hear the floss "squeaking". Unlike brushing that must be done at least 4 times per day, flossing should just be done at least once per day, immediately before you've brushed, preferably at bedtime. Unhealthy gums will bleed when flossing for the first time, but this should gradually stop. Make sure you see your dentist if gum bleeding doesn't stop or you don't see an improvement in your gum health after flossing.
What To Use
Interdental Toothbrush
An interdental toothbrush (Proxabrush) is another good option for keeping your teeth, braces and gums clean while wearing braces. This type of toothbrush is designed to clean around the braces and under the archwire. Just make sure you brush slowly, as to not damage your braces.
Antiseptic Mouth Rinse
An antiseptic mouth rinse such as Peroxyl is used to treat mouth irritations like inflamed gums, canker sores, cheek bites and other irritations caused by your braces. Peroxyl contains hydrogen peroxide, which speeds up the healing process.
Fluoride Mouth Rinse
Gargling with a fluoride mouth rinse twice a day for 2 minutes can help protect your teeth's surfaces and keep tooth decay at bay. Look for a mouth rinse with at least 0.05% sodium fluoride.